Superb Record Breaker Challenge
Silver Connie Challenge
During Record Breaker Month (September 30th to October 27th) everyone is challenged to Achieve $2800+ in personal sales to win awards, Cash Bonuses, and be in the draw for a Super Prize worth over $400 (A Complete Business Kit)
We need everyone to challenge themselves to be GREAT in Record Breaker October,
A $700 Party (Sales) each week means you will achieve the $2800 Silver Connie Level for October.
Because we need everyone to Compete we are challenging every Director to reach that level or even higher.
When they do they make their team eligible to be in the Superb Awards and Draws.
Silver Connie means a $100 Volume bonus from Tupperware for everyone plus more at higher levels.
Plus a Party each week qualifies you for the weekly "Activity Awards" below
PLUS
From Superb we will have a Table of Cello wrapped Gifts that Qualifiers can choose from.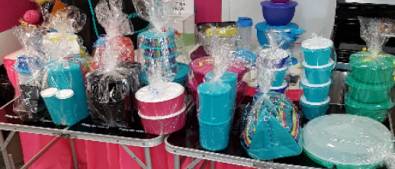 PLUS
Someone will win a complete Business Kit in our Draw