Online form to Report 3 Week Parties Up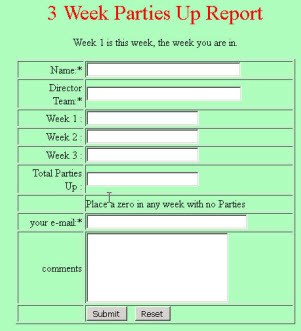 Click above to report Parties
Please simply report all Parties you have dated into the next 3 weeks starting always with the week we are currently in.
Every week there will be Draws from those reporting.
If your parties up change during the week simply make out a new report, we will always take the latest report to place in the draws.
Have a Look at Parties already reported
ID= superb p/w= parties
click above enter the ID and P/W to view all entries
Each week on Monday before rally the entries will be placed in a draw